Shopping online has many perks, and I love to do it myself, but is has one major downside: identity theft. While the desire to avoid long store lines and find better deals is a powerful one, we need to be careful when shopping online to ensure that our precious identities are not stolen and then used against us. After all, nothing will keep you from buying that Orange County house of your dreams more than bad credit. So while (according to estimates) about 75% of us Internet users, let's make sure our online buying habits are not putting us at risk for identity theft and possibly years of bad credit and financial struggle!
When you buy something online, you are required to enter in financial information. This information can easily be compromised or stolen by identity thieves and hackers if you are not careful, and sometimes even when you are careful. Many hackers target Orange County residents because of the wealth and prestige associated with it. No matter what your financial status, do not let yourself be victimized by these thieves.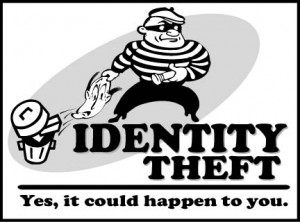 So, before you do any online shopping, here are a few tips to consider to avoid identity theft online:
1. Anti-virus protection.  Antivirus software is software used to prevent, detect and remove malware, such as: computer viruses, adware, backdoors, spyware, trojan horses and worms. Hackers frequently steal your identity through viruses, etc… and antivirus software can help prevent this from happening. Make sure your computer has up-to-date anti-virus protection software installed.
2. Monitor your finances. If you are regularly checking your online and paper credit card and bank statements, you will see a suspicious charge or activity that might indicate your identity has been stolen. If this happens to you, immediately contact your bank.
3. Use unique passwords. While your birthdate or maiden name might be easy to remember, it is also easy for an online hacker to figure out. Create a strong, unique password for each website, such as an odd combination of letters, numbers, and symbols, and uppercase and lowercase characters. Then, write the password down on paper and leave it in a safe place.
4. Only use secure Wi-Fi networks. I love free Wi-Fi spots, especially when I'm on my iPad, but they aren't secure. This means that more hackers are could be trying to hack into them to steal your identity. If you are shopping online and need to enter your credit card number, wait to do it on a password protected Wi-Fi network that you trust; such as your home wireless network.
5. Buy from online merchants you trust. If it seems like too good of a deal, it just might be. Scammers take advantage of online shoppers who use search engines to find deals. It is best to buy from websites that you trust. And no matter what, before entering your credit card information, make sure that your identity and the website is secured with an "https" web address.
Buying a home in Orange County requires excellent credit. Do not let someone else ruin years of your hard work by making an unsafe online purchase. Of course, even with all the precautions and despite your best efforts, your identity can be stolen.  We can only do our best and shop safely while online!
For more Orange County real estate news and happenings, follow Cheryl on Twitter @CherylSellsOC or check her out on Facebook at CherylSellsOrangeCounty.
Cheryl Marquis has been an active and successful real estate agent in South Orange County, California for more than 25 years. As a TOP PRODUCER in her company, Cheryl has received the specific accreditation of a Certified Relocation Specialist (CRS) and Accredited Buyers Agent (ABR) and is a member of the Who's Who of Luxury Real Estate, a select network of the world's leading luxury home agents. Cheryl is a member of C.A.R. (California Association of Realtors), N.A.R. (National Association of Realtors) and O.C.A.R. (Orange County Association of Realtors). To talk to Cheryl about buying or selling a home in Orange County, call her at 949.683.1501 or visit her online at www.CherylSellsOC.com