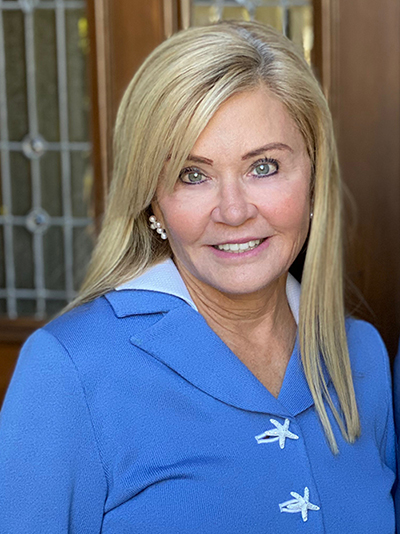 Cheryl Marquis
Cheryl Marquis has been an active and successful real estate agent in South Orange County, California for more than 30 years where she has assisted clients in finding, aggressively negotiating, and settling in to their dream homes and communities. Cheryl is a firm believer that an unwavering dedication to your passions is the key to success-it is this very philosophy that forms the basis of her strategy as a real estate professional.
My commitment to service is a big part of the success I have been able to help my clients achieve. I oversee every detail of a transaction, from start to finish-and this commitment is evident to my clients. Cheryl is known for her honesty, strong work ethic, commitment to client services and tremendous real estate sales success. Again, a list of loyal clients will be provided upon request.
Testimonials
Cheryl has tremendous experience with the market in South Orange County, and no one works harder for you. than Cheryl. She will work tirelessly to make sure your goals are met, and provides sound advice along the way. Cheryl recently sold our home. The process was quick and painless, and she negotiated a deal we were very happy with. I have also worked with Cheryl on the buyer side. I would recommend her to anyone.

Matt S.

Cheryl is SO much more than a realtor. She deeply cares about her clients while also ensuring she does business with integrity. She's a go getter and such a hard worker!! Added plus, the relationship with Cheryl doesn't end with a sale or a purchase; she builds a level of trust that allows you to lean on her for any and all real estate needs. I have nothing but confidence that I'm always taken care of from all aspects of buying and selling a home, and have been quick to refer my friends to Cheryl. A realtor who I once never knew and now feels like family; that's someone I will always fully trust to take care of all my real estate needs.

Ilysa S.

Cheryl has been incredible to work with. Cheryl is honest, experienced, knowledgable, and connected. I felt like I was working with a family member (who is also a realty badass). Cheryl spent countless hours helping my husband and I find the perfect home to start our family in. Cheryl walked us through every part of the process and made us feel confident, educated, and cared for. She advocated for our best interest with the sellers and escrow company. She also worked closely with our amazing lender to make sure we had everything we needed (and fast!). She makes realty magic happen! She got us in to see houses that we told her about last minute (unheard of!) and was an expert negotiator. She got us a fabulous deal on the home we purchased (in this insane market) and kept an eye on the escrow paperwork (which is not even part of her job!) to make sure that we weren't taken advantage of. During our walk throughs, she gave me design and renovation ideas as well. Once we got the house, she was still available to answer questions and provide guidance. She is passionate about realty, and most importantly, passionate about her clients. Her dedication and drive made the process so easy for us. She went above and beyond the call of duty to get us exactly what we wanted (and helped us with things we didn't even know we needed). If you need a stellar realtor, counselor, designer, and advocate... you need to work with Cheryl. My husband and I will never work with anyone but Cheryl. I will be recommending her to all my friends and family members.

Jeanette P.

Cheryl is amazing! She helped us sell our previous house and found our dream home where we hope we can retire in the future. She listened to our needs and was relentless to get the best deal for us during our sell and purchase. We miss our daily calls with Cheryl getting us updates and walking us carefully through the contract details of all the forms during each step of both transactions. We highly recommend Cheryl if you're looking to sell of buy a house.

Ileana H.

Cheryl is my only go to with property. Just closed on a place where there were 8 offers. Cheryl has decades of experience and understands what it takes to give her clients exactly what they are looking for.....and then closing the deal.I believe this may be about property number 9 that Cheryl has handled for me personally. She has more energy and drive than anyone I know.Cheryl is the GO-TO!!!

Sylvia C.

Just finished my 8th property acquisition with Cheryl. Always the realtor that I have represent me with each property since the late 1990's.
Cheryl is so up on all the current legalities and just continues to stay on top of everything happening in the housing market.
This purchase involved 8 offers and Cheryl knew what the best route was in order to close the deal- and it wasn't about being the highest bidder....thus her decades of experience . Call Cheryl if you want it done!!!

scollins7303

Professional, Kind, Straight forward. Explained what was needed, had contacts to make it happen not just fast, but well done and dedicated to her craft in every way. My home sat without much notice for almost 5 months, until I met Cheryl and without 1 month we had offers and another month later we closed escrow! Highly recommend!!

sherrell80

Cheryl is unlike any other realtor I have EVER known. She is incredibly organized, knowledgeable about market trends, and has referrals for whatever you may need for your new home. She has a remarkable and creative eye for interior decorating that guided me to envision my new space. She was patient with my questions and extremely intuitive with matching me with my perfect dream beach home. She is tenacious with her negotiation skills! Her work ethic and availability around the clock were impressive...I recommend her wholeheartedly !!

susanyounkin

Cheryl was fantastic. She went above and beyond when finding our new home and negotiating a deal that others said couldn't be done. Cheryl's persistence and follow up was key in making sure all our sale went smoothly and quickly. Her knowledge of the homes she represents and the areas they are located is impressive to say the least. There is no doubt Cheryl is one of Orange County's finest agents.

Jon D.

Cheryl is professional, responsive, trustworthy, and compassionate. I fully trusted her throughout the sale of my home. She answered all of my questions and provided thorough guidance during the process. I would recommend Cheryl to anyone wanting to sell their home!! Thank you, Cheryl for all of your hard work.

Danica Koos

We just bought a condo in Laguna Niguel and Cheryl was our realtor. She worked so hard to make sure we got what we were looking for. In a sellers market, it was tough to be competitive with so many others offers on the table. Cheryl was fast and responsive and brilliant in the way she negotiated. She was also direct and always looked out for our best interest. She's one of the top premier realtors in SoCal and has earned every bit of her reputation. You'll never find anyone who will work smarter or harder for you. Thank you Cheryl!

tammy sherrill5

Cheryl shared decades of knowledge into an incredibly short period of time to my wife and I that allowed us to make an incredible decision. We felt instantly comfortable and knew we were in the best of hands. We will only refer her to friends and family and will partner with her again in the future if we are so lucky.

dannyrvartanian

It is very difficult to find a savvy real estate agent who thinks strategically. From my experience with Cheryl, she is not just an agent ... this is her business. Creating a marketing plan driven by a tenured career of knowledge and market data. My only regret is I did not find her sooner. I needed an expert to guide me and Cheryl exceeded expectations.

Deborah M.

If you're looking to buy a home, look no further than Cheryl. She exceeded all of our expectations, and made our home buying experience wonderful. There were some difficulties with the other selling agent, but Cheryl was diligent and resolved all of the issues that arose in a professional and timely manner. She has a tremendous wealth of knowledge about every aspect of the home buying process, and additionally an amazing understanding of every neighborhood in Orange County. I can not say enough good things about Cheryl, and would encourage anyone looking to buy a home to use her services.

JaredMurray0

There is simply no one better than Cheryl. She understands the Orange County real estate market better than anyone we have ever met. She also goes above and beyond, meeting contractors and painters and gardeners at our house to ensure that it was in pristine condition, ready for top dollar. At every step of the way, we knew Cheryl was on our side.

kmarqdennis

Cheryl Marquis came through for us on a 10-day escrow on two properties that had difficult estate, legal, and city issues. She even solved some of the problems before she presented them to us! Hugely reduced our stress levels. I highly recommend Cheryl for your real estate dealings! And she's lovely to work with, too!

zuser20150111215343702

Cheryl is the best of the BEST. She is extremely knowledgeable and hard working and will spend countless hours working for her clients (day and night!). She helped us find our dream home and I trusted her every step of the way. Anyone who works with Cheryl is in the BEST of hands.

ilysa smock

The very first home Cheryl showed me, was the one! She knew just based off of my description on what I was looking for the exact house and houses to show me, and I was very impressed. She was super helpful, professional, warm, and knowledgeable about all of orange county and helped me narrow down my search to the areas that were best for me and my family. I was amazed by how easy this home buying experience was this time, and my family presented a lot of challenges time-wise to work with but Cheryl handled them like the pro she is! She is definitely the best in Orange county. I highly recommend her!

Alisa Beaubien

I have known Cheryl for over 25 years. She has sold one of our homes and was the agent when we purchased two of our homes. If you are looking for an honest, hard working, energetic, knowledgeable and sweet person to represent you in buying or selling your home, Cheryl is your girl!!

Lori C.

We really can't express how thankful we are to have worked with Cheryl! In today's real estate market, every seller/buyer needs to know that their real estate professional is advocating for them, proactive in communication, and taking care of every detail. Cheryl went above and beyond every expectation. Buying and selling can be extremely stressful but Cheryl's expertise, confidence, negotiating skills, and ethical code were exactly what we needed to smooth the process. She is a rare gem of a real estate professional and we will be referring all of our friends to her!

zuser20170719124420816

Cheryl is a pro! Her experience coupled with her personality enables her to represent a seller (in this case us) with practical knowledge and common sense. Her recommendations for preparing to sell were spot on; matching cost benefit accurately. Once we were prepared and listed our house, word must have gone out fast because we had offers almost immediately. Cheryl can be very persistent when it comes to things staying on course during the closing. Although some visiting realtors felt that we were "asking too much", Cheryl's recommendation on pricing was correct as we had two offers at full price.

brucecolletti

Cheryl is the best. She is knowledgeable, professional and experienced. My wife and I bought our first home three years ago and she was extremely helpful throughout the whole process. We found out that buying a home can be very stressful. She was always there to answer our questions and concerns. We would highly recommend Cheryl to anyone looking for a real estate agent.

zuser20170827145339863

Cheryl Marquis was the seller's broker on a recent Home purchase we just closed escrow on. She did not represent us, but because of Cheryl, the transaction kept moving ahead and closed on time.
Cheryl is a major real estate pro. She has decades of experience on both sides of real estate transactions and is an expert on all levels. She is well versed in the ever-changing California real estate laws and is well qualified on negotiations and getting the deal done. We would wholeheartedly recommend retaining Cheryl if you are thinking of selling a home or buying one!

Laurie H.

We used Cheryl while selling our residence outside of California - because of the regional separation, Cheryl collaborated with a local real estate agent.

Cheryl is always responsive and very communicative, has deep knowledge of area sales and the 'comps' in the neighborhood, Understands when to sell/buy and negotiates effectively and fairly. Most importantly, Cheryl is honest and we felt like she was on our side throughout the process of listing and selling our residence.

G Clark

Cheryl Marquis is the only realtor that I do business with. I have used her services to sell property, obtain property and even manage and find tenants for me. I am just coming off of a full year and a total of 5 real estate transactions where Cheryl was my agent. She has represented me and my family members now for the past 17 years. After so many transactions since 2000 I have a very hard time believing anything but "Stellar" as it pertains to Cheryl Marquis. You will not be disappointed!!

Momof T.

This review is long overdue. 18 months ago my wife and I bought our first home. Cheryl represented us. The words I would use to describe Cheryl are calm, kind, experienced, professional, knowledgeable and thorough. She and Chebal were there every step of the way holding our hand during the process. I can not recommend anyone more highly than Cheryl Marquis for any real estate transaction in Orange County. She is the best.

Bruce K.

If you are searching for a realtor in Orange County who will look out for your best interests and get you the best deal, whether you are buying a house or selling a house, look no further. Cheryl and her team are the best. Cheryl sold me my first home (a townhome in Ladera Ranch!) in 2003. It was a great experience every step of the way and I will never work with another real estate agent. Cheryl has since leased two of our homes, sold two of our homes, and recently helped us buy another home. She went above and beyond, even acting as an interior decorator! She goes above and beyond, doing far more than any other realtor I have ever worked with.

K K.

Cheryl is nothing but a professional. She works hard to get the job done and really is a support system for her clients because she knows the ins and outs of this business so well. She is always readily available to answer questions and is willing to go above and beyond. Most importantly, she gets results! I would recommend her to anyone needing an honest and reliable realtor.

Janel A.