As my friends and family can attest, I love to throw a party. Indoor, outdoor, summer, winter… Weather is rarely an excuse to get your loved ones and fun ones together to create lasting memories.  For me, half of the joy of throwing a party is putting the menu together, creating a beautiful background, and watching my friends and family enjoy the fruits of my labor!
In Orange County, we really don't have an excuse to not have an outdoor party, regardless of the time of year. With our beautiful weather and fresh foods, every season offers its own perks. Since it's summer, I thought I would gather a few of my favorites inspirations and [hopefully] give you a reason to start planning your summer party! Remember, with the warm days come cool nights in Orange County, especially near the coast. A fabulous way to ensure that your guests don't freeze if your party is outdoors is to provide warmth. Heat lamps can be found at wallet-friendly stores like Costco. Personally, I love the idea of provide comfy blankets for guests sitting around a table. Check out Pottery Barn, Restoration Hardware, or HomeGoods. And if you're in in the mood, let the guests take their blanket home as a party favor!
Read on for links to more summer party tips…
Gorgeous floral centerpieces make every table! Check out these sites for arrangement ideas: Warm weather flowers, Martha's Tips
Delicious eats, drinks, and treats: Real Simple, All American Fare, Fruity Desserts, Fruity cocktails!
Don't make your guests stand in the dark! I found some fun lighting inspiration on Pinterest. Take a peek here.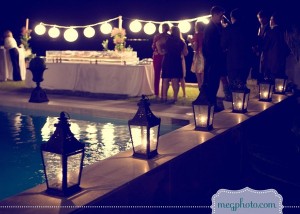 Every party needs a theme! Check out this site for dozens of great ideas.
And finally, you can't forget the music! Kids can provide insight into what's 'cool' and fun for a summer party in Orange County. Stick to what's safe across generations; think Katy Perry pop or Jason Mraz soulfulness. Create your summer party playlist on your iPad, connect it to your stereo or iPod stand and let the music play!
Have fun!
For more Orange County summer party tips, follow Cheryl on Twitter @CherylSellsOC or check her on Facebook at CherylSellsOrangeCounty.
Cheryl Marquis has been an active and successful real estate agent in South Orange County, California for more than 25 years. As a TOP PRODUCER in her company, Cheryl has received the specific accreditation of a Certified Relocation Specialist (CRS) and Accredited Buyers Agent (ABR) and is a member of the Who's Who of Luxury Real Estate, a select network of the world's leading luxury home agents. Cheryl is a member of C.A.R. (California Association of Realtors), N.A.R. (National Association of Realtors) and O.C.A.R. (Orange County Association of Realtors). To talk to Cheryl about buying or selling a home in Orange County, call her at 949.683.1501 or visit her online at www.CherylSellsOC.com.